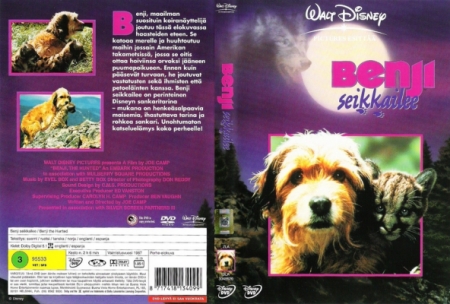 Benji
(Benji, perhe-elokuva vuodelta 1974)
Benji on äärimmäisen nokkela pieni sekarotuinen koira, jolla on taipumus selvittää ongelmatilanteet ihmisystäviään paremmin.
Elokuva on saanut lukuisia jatko-osia, joista useimmat on julkaistu USA:ssa DVD:llä:
For the Love of Benji (1977)
Benji's Very Own Christmas Story (1978)
Oh Heavenly Dog (1980)
Benji at Work (1980)
Benji Takes a Dive at Marineland (1981)
Benji, Zax & the Alien Prince (TV-sarja, 1983)
Benji the Hunted (1987)
Benji: Off the Leash! (2004)
Benji: The Barkening (2007)
---
Takaisin etusivulle
---
Koiraelokuvat.info is a non-commercial, non-profit fansite for information purposes only. No copyright infringement intended. All titles, characters, cover pictures and other images are © their respective owners.